Everyone reading this has the opportunity to become a lifesaving superhero. In her fight for survival, Billie has needed the help of countless lifesaving superheroes. Two individuals went through the stem cell donation process and approaching 100 people donated their blood. Without these people, Billie would not be here.
We were lucky. Both times Billie has needed a stem cell transplant, she has had a matched donor ready. All of the times she has needed blood transfusions, the blood has been there.
Others are not so lucky.
If you want to make a difference, there are two things you can do:
Register to give blood
Sign up to the stem cell register
Give Blood
Giving blood saves lives. The blood you give is a lifeline in an emergency and for people who need long-term treatments.
According to the NHS, they need:
Nearly 400 new donors a day to meet demand
Around 135,000 new donors a year to replace those who can no longer donate
40,000 more black donors to meet growing demand for better-matched blood
30,000 new donors with priority blood types such as O negative every year
More young people to start giving blood so we can make sure we have enough blood in the future
Most people can give blood. You can give blood if you:
are fit and healthy
weigh between 7 stone 12 lbs and 25 stone, or 50kg and 160kg
are aged between 17 and 66 (or 70 if you have given blood before)
are over 70 and have given blood in the last two years
The process of giving blood should be relatively quick and painless. Just under one pint is taken and the actual collection process usually takes around 10 minutes. Plus you'll get free tea and biscuits afterward!
Join the stem cell register
Every 14 minutes, someone is diagnosed with blood cancer. Many of these people will need a stem cell transplant to give themselves the best chance of survival.
Billie was lucky. She had a matching donor. Currently, 31% of people aren't able to find the best possible match from a stranger. This dramatically increases to 80% if you're from a black, Asian or ethnic minority background.
Despite this only 2% of people in the UK are registered as stem cell donors. This compares to 9% in Germany, 12% in Israel and 13% in Cyprus. We can and must do better.
Once you're on the register, you have a 1 in 800 chance of being asked to donate. But your chance of being chosen to donate depends on your age and sex. A young man aged 16-30 has a 1 in 200 chance of being chosen to donate.
Stem cell donation isn't scary. There is a lot of misinformation about what actually happens during the stem cell donation process. 90% of people donate via their bloodstream and 10% have their stem cells collected via their bone marrow while under general anesthetic. That means for most people, the process should be relatively pain free.
Take a look at Anthony Nolan's short video to find out what happens if you come up as a match for someone:
Want to help?
The actual process of signing up to the register is quick and straightforward. It's simply a case of registering online and returning a swab kit in the post.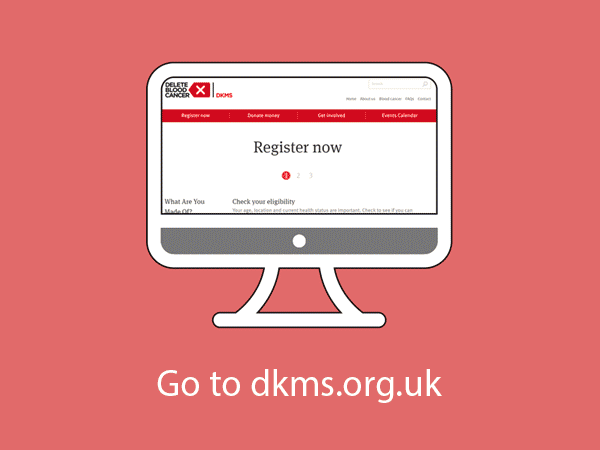 Aged 16 – 30: Register with Anthony Nolan
Aged 30+: Register with DKMS
---